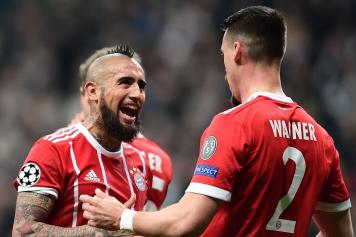 15 April
Ten days before the important Champions League clash with Real Madrid, potential disaster has struck at Bayern Munchen.
Bayern's star midfielder, Arturo Vidal, was forced to leave the training session after suffering an injury that looked serious, as the Chilean was carried off the pitch on a stretcher.
According to 
Bild
, Vidal fell to the ground and immediately placed his hand on the knee. Unfortunately for Bayern Munich, it's possible that Vidal will miss the first leg against Real Madrid, if not even worse.
Do you love us?, Please donate to us ,thank you. BTC 38WPVc3xMYmoMp1GcnpDXd1fEzbfgujsCB Etherum 0x6c11844FD079b2490CDd44039e1C2f0940d098dc