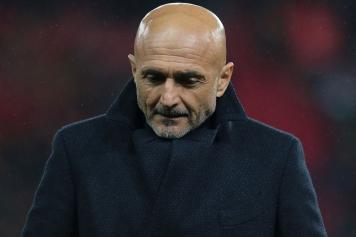 16 April
Inter coach Luciano Spalletti is still not sure if his side can qualify for next season's Champions League with six games remaining in the season.
The Nerazzurri are currently sitting fifth in the table with 60 points after 32 games. They trail fourth place Lazio and third place AS Roma by a point, with the latter two clubs being separated by goal difference.
"We created the possibility to manage something, we played it, there are six games left, I do not know how many points will be used to reach the Champions League or what the future holds, but we have to think about one game at a time," Spalletti explained.
"The fact that we come from some games in which we have scored less should not make us confused about the performance.
"It is clear that the goal makes the difference because the points if you score goals and win are three, otherwise they are one."
Inter face Cagilari in the next league tie on Wednesday and they could move to the third spot, depending on the results elsewhere.
Do you love us?, Please donate to us ,thank you. BTC 38WPVc3xMYmoMp1GcnpDXd1fEzbfgujsCB Etherum 0x6c11844FD079b2490CDd44039e1C2f0940d098dc