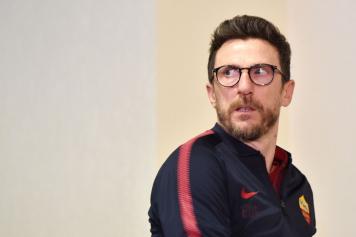 17 April
AS Roma coach Eusebio Di Francesco told his players to focus on the Serie A clash against Genoa and not to be distracted ahead of the Champions League semi-final clash against Liverpool.
The Serie A outfit knocked out Barcelona out of the Europe's elite club competition just days before the goalless draw against against Lazio. Roma will face Jurgen Klopp's side in the last four of the European competition.
"I told the team that they have to think about Genoa, because since Ballardini is a square and compact team, I will change something at the level of men, but it is inevitable, because it serves fresh people," Di Francesco said during the pre-match press conference.
"It is important to understand that all the games are important, then I see the boys very available and ready, so I expect the answers to be in line with my feelings," Roma manager added.
Roma will host Genoa in the league tie at Stadio Olimpico on Wednesday, 18 April.
Do you love us?, Please donate to us ,thank you. BTC 38WPVc3xMYmoMp1GcnpDXd1fEzbfgujsCB Etherum 0x6c11844FD079b2490CDd44039e1C2f0940d098dc