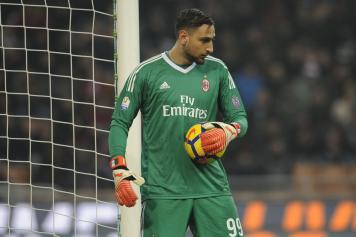 18 April
According to the latest reports from Italian newspaper Corriere della Sera, there is a real possibility that Gianluigi Donnarumma could leave AC Milan during this summer's transfer window.
The goalkeeper's agent, Mino Raiola, has grown increasingly convinced that a move elsewhere would be the best solution for his client and will push for him to join either Real Madrid or Paris Saint-Germain before the start of next season.
However, the 19-year-old will not come cheaply to any potential suitors, with the Rossoneri set to demand at least €60 million before the will entertain the idea of selling him.
Technical director Massimiliano Mirabelli has a massive job on his hands this summer as he looks to strengthen the squad in several key areas, especially given the fact that Gennaro Gattuso is weighing up the possibility of switching to a narrower 4-3-1-2 formation.
.
(Corriere della Sera)
Jordan Russell (@JordRuss96)
Do you love us?, Please donate to us ,thank you. BTC 38WPVc3xMYmoMp1GcnpDXd1fEzbfgujsCB Etherum 0x6c11844FD079b2490CDd44039e1C2f0940d098dc