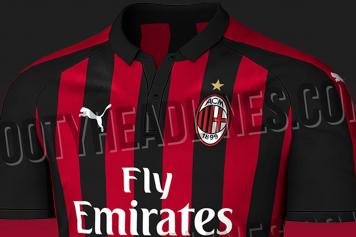 25 April
AC Milan's new home shirt has been unveiled by footyheadlines.com. Indeed, it is the Rossoneri's first kit release since they signed a technical sponsorship with Puma, following the expiry of their agreement with Adidas.
The jersey reverts to a classic design with 11 solid red and black vertical stripes, while the black sleeves are intersected by a single red stripe. As per usual, the Fly Emirates logo is present as well as that of Puma.
Check out our gallery to see Il Diavolo's latest shirt in all its glory.
#ACMilan's 2018/19 PUMA home shirt, according to @footy_headlines.

What are your thoughts?
(Footy Headlines)
Jordan Russell (@JordRuss96)
Do you love us?, Please donate to us ,thank you. BTC 38WPVc3xMYmoMp1GcnpDXd1fEzbfgujsCB Etherum 0x6c11844FD079b2490CDd44039e1C2f0940d098dc