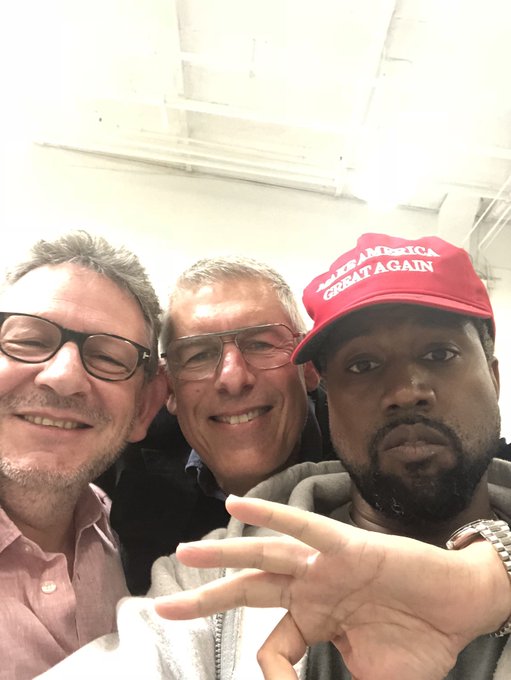 Kanye West can't stop tweeting.
The rapper has been ranting wildly on Twitter — including several pro-Trump tweets — following reports that he abruptly fired his manager Scooter Braun.
Beginning Tuesday and extending into Wednesday afternoon, the rapper tweeted nearly constantly about everything from his Yeezy fashion line to Coachella and his daughter, North. In the afternoon, he took the time to send some love to his "brother" Donald Trump and Hillary Clinton.
The love seems mutual as Trump tweeted back at the rapper, "Thank you Kanye, very cool!"
But it didn't take long for West's wife, Kim Kardashian, to chime in and require her husband to clairfy a few things about his political tweets.
She also went on a rant of her own defending her husband's tweets.
Many of West's tweets seemed disconnected or nonsensical and some focused on slamming recent media coverage that claims those close to West are concerned for his health.
The news of Braun's firing comes a few days after Ebro Darden, of Hot 97's "Ebro in the Morning," claimed West told him during a wide-ranging interview, "Nobody really showed love for me when I was addicted to opioids and in the hospital."
He wrote Wednesday: "there's been a lot of fake news so I just wanted to give you the facts. Yeezy will become the biggest apparel company in human history by working with the most genius level talents and creating product at an affordable price. I hired the head of supply chain from the Gap."
He also tweeted about his rumored presidential ambitions.
"Harvey Levin of TMZ your hearing from your future president. Let's be friends. Please never use the word erratic to describe a person who is economically and psychologically empowered."
He also acknowleged that he fired Braun writing, "I can't be managed."
He added: "yes I got rid of my last lawyer why? Because he wouldn't come to work full time. I also asked my last manager to come work full time for Yeezy of course the last lawyer and manager said no. So now I hired a CEO and a CFO and i have two full time lawyers as of now."
West abruptly fired A-list manager Braun, who also reps Ariana Grande and Justin Beiber. According to Page Six, West has recently also fired other members of his "inner circle" following his big announcement of five new albums, a philosophy book and hinting a possible presidential run with a tweet that simply read, "2024."
Sources in the industry told Page Six they are "very worried for Yeezy's mental health" and worry that he could be on the verge of "another episode."
In the midst of West's bizarre Twitter rant, it was also reported that the "Famous" rapper has had "explosive fights" with his mother-in-law, Kim Kardashian's mom Kris Jenner. But the momager quickly shot down the rumors and did some tweeting of her own.
On Tuesday, Jenner retweeted a People magazine article that claimed she and Kanye were in the middle of spat and said, "Lies, Lies, Lies."
She further defended her son-in-law and retweeted another article, which alleged the Kanye has been "on edge" and "difficult to deal with" and said, "Nope…not true!"
The rapper also tweeted at People and warned them about tweeting his name and said, "People magazine. Watch how you speak my name. You would love a pair of Yeezys.  Don't play yourself."
West's current actions on Twitter are reminiscent of his behavior back in November 2016 when the performer was forced to cancel 21 tour dates after suffering a "nervous breakdown." During the time of his break down, the singer was said to be hospitalized for exhaustion which was triggered by the anniversary of his mother's death on top of stress from trying to balance a tour, an album and his fashion line.
The claim from Darden that the hospitalization stemmed from a drug addiction is new.
But one source told People that Kanye's current mood wasn't anything to worry about and blamed his "genius" personality for his controversial behavior.
"I think a lot of that stuff is Kanye," the source said. "He's always been like that. Kanye's definitely the most genius and eccentric and erratic person I've ever had the pleasure of knowing."
Do you love us?, Please donate to us ,thank you. BTC 38WPVc3xMYmoMp1GcnpDXd1fEzbfgujsCB Etherum 0x6c11844FD079b2490CDd44039e1C2f0940d098dc