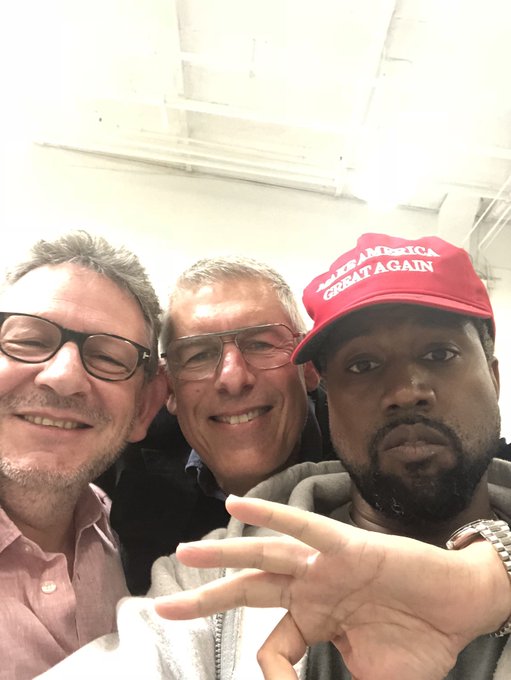 Not everyone is a fan of Kanye West's recent tweets about President Trump.
The rapper has been facing backlash from his fellow stars after coming out in favor of Trump.
West pal John Legend has been particularly harsh towards the "Famous" rapper sending West a tweet urging him to stop backing Trump.
"I hope you'll reconsider aligning yourself with Trump. You're way too powerful and influential to endorse who he is and what he stands for," Legend texted West according to a photo the rapper shared on Twitter of their texting exchange.
"As you know, what you say really means something to your fans…Don't let this be part of your legacy. You're the greatest artist of our generation," Legend wrote.
West replied, "I love you John and I appreciate your thoughts. You bringing up my fans or my legacy is a tactic based on fear used to manipulate my free thought."
Legend wasn't the only one who spoke out against West's recent Twitter rant where the rapper showed off his MAGA hat. The tirade even caught Trump's attention who tweeted, "Thank you Kanye, very cool!"
"Westworld" star Jeffrey Wright tweeted, "If you think Donald Trump is a good alternative to anything, you're out of your phucking tree."
"Get Out" director Jordan Peele tweeted that he was "inspired" to begin writing a "Get Out 2" script while Kumail Nanjiani said, "This was the worst twitter day in Twitter history."
According to Pop Crave, Justin Bieber, BTS, The Weeknd, Rihanna, Ariana Grande, Harry Styles, Katy Perry, Nicki Minaj, and Kendrick Lamar are among the famous names who unfollowed the rapper.
But not everyone has condemned West for his controversial statements.
Chance the Rapper chimed into the heated topic and said, "Black people don't have to be Democrats."
He later followed up with another tweet which read, "Next President gon be independent."
West's wife, Kim Kardashian, also stepped into the conversation when her husband's mental health was questioned.
While she defended her husband's rant, she clarified that while she respects her husband, they have different political views. Kardashian also said that everyone, including West, should be able to express their own opinions without backlash.
"When he spoke out about Trump… Most people (including myself) have very different feelings & opinions about this," Kardashian tweeted. "But this is HIS opinion. I believe in people being able to have their own opinions, even if really different from mine. He never said he agrees with his politics."
Do you love us?, Please donate to us ,thank you. BTC 38WPVc3xMYmoMp1GcnpDXd1fEzbfgujsCB Etherum 0x6c11844FD079b2490CDd44039e1C2f0940d098dc