Last Updated on
Here are the voting Results!
Recall Tacha was disqualified for physical violence against Mercy.
Cindy was Evicted on Friday Morning, Tacha Disqualified on Friday Evening, Elozonam was evicted first today, then Ike!
Below is the full voting result!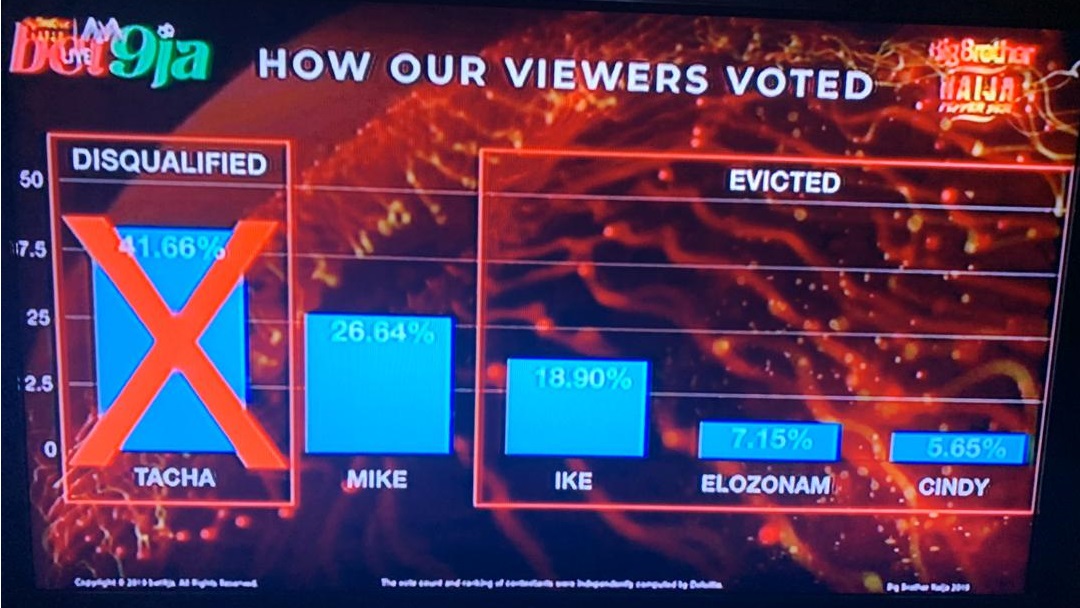 Tacha led the poll with a whooping 41.66% votes! That's almost half of the votes!
Mike came second with a 26.64% vote!
Ike came third and was evicted today, with an 18.90% votes.
Elozoname came fourth and was evicted today, with a 7.15% votes.
Cindy came fifth and was evicted today, with a 5.65% votes!
Following Tacha's disqualification, there have been uproar on social media as there are claims that Tacha is being held against her will for refusing to grant interviews and go on media rounds.
Tacha yesterday to calm the storm, shared a video on her IG page tell her fans to "Cease fire", as she's fine.
A new claim says she was forced to make that video and she is still being held against her will.
Though Ebuka has reacted to these claims and said Tacha is back to her friends and family, "To the best of my knowledge, she's been with her friends and family since yesterday, so she's fine."
We are sorry that this post was not useful for you!
Let us improve this post!
Tell us how we can improve this post?