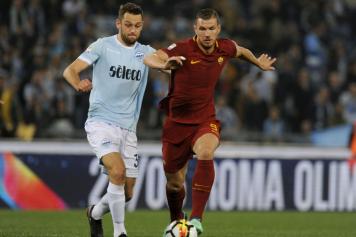 15 April
The Rome derby ended in a 0-0 draw, although both teams had enough chances to win it. Calciomercato.com have ranked the players' performances, with Manolas being the MOTM.
Flops
Schick – 5: Certainly nothing spectacular from the striker, although he's finding more and more confident in this Roma side. Was replaced by Under early in the second half and, therefore, failed to leave a mark on the game.
Radu – 4.5: Did well at times to prevent Bruno Peres from creating too much space on the right-hand side. However, the two silly yellow cards he received, resulting in a red, seriously affects his rating. You would expect better from such an experienced player.
Tops
Manolas – 7: Played really well tonight. A common theme for the Greek defender. However, he was forced to leave the pitch after receiving a knock. Roma fans will be hoping that it's nothing serious as the semi-final against Liverpool approaches fast.
Luis Felipe – 6.5: Surprisingly enough managed to keep Edin Dzeko relatively quiet, anticipating many of the big man's moves. Impressive game, to say the least.
Do you love us?, Please donate to us ,thank you. BTC 38WPVc3xMYmoMp1GcnpDXd1fEzbfgujsCB Etherum 0x6c11844FD079b2490CDd44039e1C2f0940d098dc