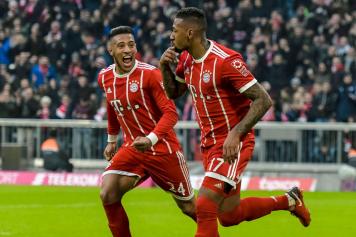 23 April
Bayern Munich won't be taking Cristiano Ronaldo lightly.
​Done toasting Juventus in Turin, the Portuguese sensation is set to face old foes Bayern Munich, a side that keeps clashing with Spain's elite on Europe's biggest stage.
Jerome Boateng is certainly relishing the challenge, claiming that the Portuguese superstar is "the most complete" striker out there.
"Cristiano Ronaldo is like a machine, he finishes with his right foot, left foot and his head, all perfectly," Boateng told German magazine Kicker.
"No forward is as complete as Cristiano Ronaldo.
"You can't keep him completely quiet, he always manages to have chances in a match."
Juventus fans will know this only too well, the Portuguese star scoring a sensational overhead kick to supplement the early goal he had managed on three minutes.
"I have both positive and negative experiences with him," he added.
"With the national team we've always managed to silence him, for example the 4-0 at the 2014 World Cup.
"With Bayern we've eliminated Real Madrid once, but we've been eliminated ourselves twice."
Do you love us?, Please donate to us ,thank you. BTC 38WPVc3xMYmoMp1GcnpDXd1fEzbfgujsCB Etherum 0x6c11844FD079b2490CDd44039e1C2f0940d098dc